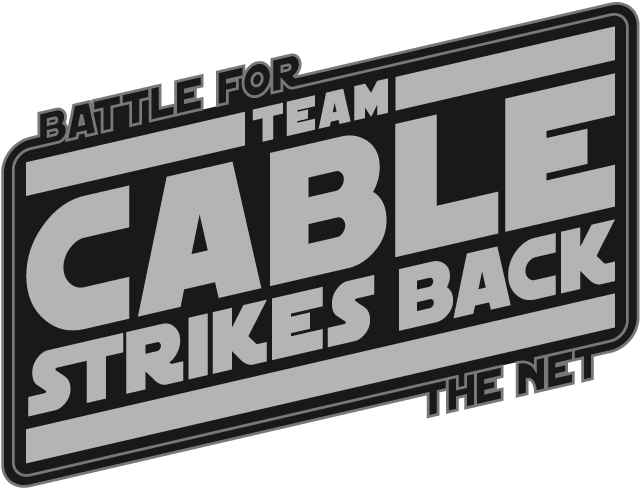 Charter and "Darth Vader" John Malone want to take over Time Warner Cable. Let's stop them.
Here's the letter we will send to the FCC and Senate
It is a period of battle for control over the Internet. Millions of people have spoken out, and the FCC was heroic in its support for Net Neutrality, and also as it heeded warnings from activists that Comcast's scheme to take over Time Warner Cable should not proceed.
But the Dark Side does not relent, and once again seeks to persuade Chairman Tom Wheeler and his FCC to allow the concentration of cable power in just two mega-companies.
The Force behind Charter is the avowed monopolist John Malone, famously dubbed "Darth Vader" because of his aggressive business practices and his disregard for the interests of consumers.
If Darth Malone prevails, he will construct a new cable company as large as Comcast — thus undermining the FCC's pro-consumer record and resulting in higher prices and worse service for millions of Americans.
Take action now — tell the FCC to not be swayed by the Dark Side!
Read and watch the videos for more on why we must defeat Malone.
1. "Cable TV veteran John Malone is swinging big. One of the shrewdest businessmen in an industry defined by financial complexity and triple-share class structures, Malone's perfectly timed bid for Time Warner Cable—a month after regulators pushed Comcast to give up its merger attempts—through Charter Communications will cement his position as the world's most dominant man in the cable and broadband business, with control over the global cable leader and the second largest player in the U.S." "John Malone: The Billionaire Behind The Time Warner Deal Keeps Getting Richer," Forbes
2. "A review of Malone's biography attributed the cable magnate's career success to 'clever, complicated financing deals that sidestepped bank rules and taxes and enriched an inside group of shareholders.' Mark Robichaud, who penned the book, characterized Malone's approach to business a bit more succinctly: 'Charge as much as you can for a product...and spend as little as you can get away with.'" "Who Is John Malone? Charter-Time Warner Cable Merger Spearheaded By 'Cable Cowboy,'" International Business Times
3. John Malone explains his ability as biggest shareholder to manipulate Charter's operations
4. John Malone compares himself to Adolf Hitler
5. John Malone yucks it up about being a ruthless monopolist